Serengeti Makes Some Of The Best Sunglasses On Earth. Is Their Future In Doubt?
Serengeti Optics started as the optical eyewear division of Corning glass. Many know Corning, the 100+ year old brand of glass products, with everything from Corningware bakeware, to fiberglass, to high durability mobile phone screens. Corning was the first sunglass maker to combine real glass (instead of plastic) lenses, photochromic sensitivity that lightens and darkens based on ambient light conditions, and polarization.
What set Serengeti lenses apart is that you were actually getting some technological value for the high price tag, rather than a designer label slapped on an otherwise cheap pair of plastic sunglasses. Serengeti was also one of the only market alternatives for consumers to Luxottica; the eyewear leviathan that owns or licenses almost every other sunglass brand on the market. Oakley, Persol, Ray Ban, Tory Burch, Miu Miu, Dolce & Gabbana, Burberry, Versace, Giorgio Armani, Prada, Chanel?  All those are Luxottica, the same company, and quite a few other brands. Most fashion brands you see are likely a Luxottica brand. Nothing wrong with that, but it's good to know it's all the same company.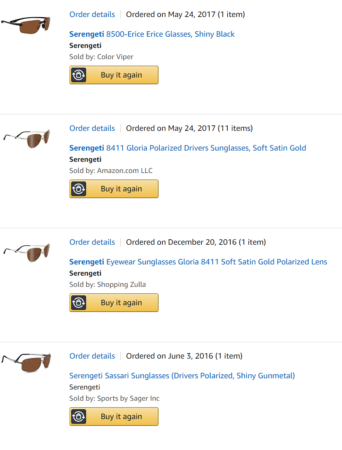 Do you shop at Glasses.com, Eyemed, Target Optical, Sears Optical? Pearle Vision, Lens Crafters or Sunglass Hut?  You are shopping at the same business, Luxottica. Again, nothing wrong with that, but it's good to know it's all the same company.
In my early 20s I visited an ophthalmologist because of eye irritation. It turned out I was allergic to a type of mold spore in the atmosphere when it rains a lot. While their I asked him: "Doc, what can I do so I never need to wear prescription eyewear?"
"Get the best sunglasses you can afford and wear them religiously outdoors."
I followed his advice faithfully, and now 30 years later, in my 50s, I still don't need prescription or even reading glasses. I am a believer in quality sunglasses.  At that time I did a lot of product research before making a purchase, looking for the best glasses based on specifications rather than fad or fashion. At that time, Oakleys were all the rage, and Ray-Ban was dominant in the market.
I ski, I target shoot, I fish, I was also taking flight lessons at the time. I didn't want a bunch of different glasses to keep track of, so I settled on a pair of Serengeti Drivers and came to love them. They were optically correct, scratch resistant, and very durable. Glass lenses and metal frames. Because they were photochromic, I could wear them all the way to sundown, and because they were polarized, they were ideal for activities like snow skiing and bass fishing.
Maui Jim is not my friend
Years later I lost them and tried some other glasses. First someone recommended "Maui Jim." Very costly, but the guy raved about them. I shelled out a couple hundred dollars for them, and in less than a month, one of the glass lenses just cracked; all by itself! They didn't fall, nobody adjusted them, I wasn't even wearing them, they just cracked, sitting there on my dresser, like the frame must have been maladjusted, or there was a glass defect.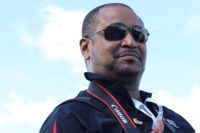 I contacted Maui Jim, shipping the glasses in for warranty service (this was in 2007). Not only did they not honor their warranty, they returned the crap glasses with a "go to hell letter." Almost two decades later, I can still feel the bitterness of being ripped off by that outfit.
Maybe I had a pair with a freak defect, or maybe they make junk, but the way I was treated by the company: "tough luck, you must have broke them, buy another pair" tells me they are clearly not worth risking business on. Whether their glasses were junk or not, their ethics are.
Next I looked at Ray Ban. They didn't have products that lined up with what I was looking for. Some photochromic, some polarized, but you couldn't get those features with glass lenses, just polycarbonate glasses.
I settled on a pair of Oakleys. Still plastic, but photochromic and polarized. The photochromics are more limited than the Serengetis, you can only use them in relatively bright conditions. The style is very avant-garde; I liked them, but they don't go well with a suit and tie. I got several years of life out of them, but the polycarbonate lens had gotten scratched, and eventually the frame broke.
Back to Serengeti
By this time, Serengeti had been sold off from Corning, which seemed to want to focus on industrial and architectural products, as they also sold off their CorningWare brand of baking cookware. Today they don't make any products that are sold directly to consumers, though they do manufacture some of the screens found on mobile phones and computer monitors.
I could no longer find Serengetis in retail stores which all seem to be owned by Luxottica, so I ordered a pair from Amazon. Once again, they fit and viewed perfectly.  I felt like I had been reunited with an old buddy. My current everyday glasses are the Serengeti Sassari with the polarized 555nm lenses.
I am not always comfortable taking my Serengeti Sassaris to the beach or if participating in rough-and-tumble sports. Sometimes I worry about damaging them because if the brand has any drawback, it is that it has rather poor retail distribution, and If I lose or damage them, I have to order a replacement from back in the states. Also they are out of stock often. I contacted the company's customer support once, and they explained the shortage was due to their expensive optical glass process that isn't suited well to mass production. I know from how camera lenses are manufactured, when you bring optical glass down from oven temperatures, you must reduce the temperature very slowly, over weeks or months sometimes. This is a big difference between real glass eyewear and cheap polycarbonates. This experience I had when purchasing the Serengeti Gloria sunglasses for my wife.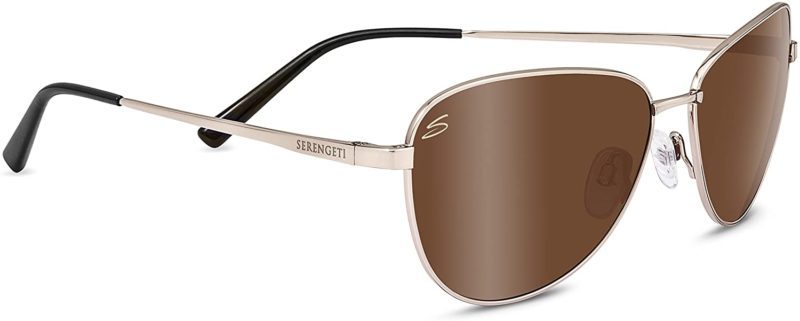 As a business operator, two years ago I actually reached out CEO Michael Callahan and Mark DeYoung, chairman of then parent company of the Serengeti brand, Vista Outdoor about distribution in South America and The Caribbean, where the company has no retail presence whatsoever (unlike Luxottica, which is in every retail channel, from online, to high fashion malls, to retail department stores). I never received a response or reply.
To go to the beach, the mountains, the pool or the tennis courts, I purchased a companion set of Serengeti Erice, less formal, and reminiscent of the Oakleys I had. I love the snug fit that holds tight when playing tennis, traipsing through the Colombian jungle, or even swimming—yes, I wear them in the water.

What does the future hold?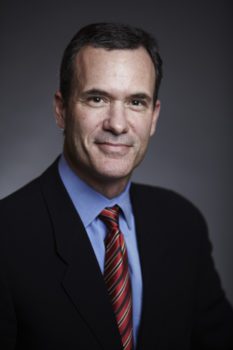 On July 9 of this year, parent holding company Vista Outdoor (NYSE: VSTO) announced it was spinning off the Serengeti, Bollé, and Cébé brands to a European conglomerate so that Vista could focus on outdoor sports in the hunting and camping segment. Previously, the brands were owned by Bushnell, maker of rifle scopes and binoculars; and Bushnell was acquired by Vista.
"We are pleased to have successfully reached an agreement to sell our eyewear and safety business at an attractive price," said Chris Metz, Chief Executive Officer of Vista Outdoor. "The business will have the opportunity to reach its full potential under new ownership. This divestiture is the first step in our transformation plan and will be the first of several potential asset sales that will significantly reduce Vista Outdoor's leverage and provide additional resources to for us to reinvest in our core businesses."
Great glasses, retail distribution still sucks.
Now, the brand still seems to be tied to French Bollé sport sunglasses, along with Cébé, a brand I have honestly never heard of. Looking at their website, they seem to specialize in plastic sports & casual glasses. No information can be found on the parent company. Each of the 3 brands has a bollebrands.com email address, but the website at that same URL inspires no confidence. In researching this article, I have reached out to them but have no information to share.
The three brands seem to be largely absent from most retail malls, and are wholly absent from all of Latin America and the world capital of outdoor sports and sun: The Caribbean. I would love to one day come across the stewards of this beloved brand so I could ask just one question. WTF are you thinking?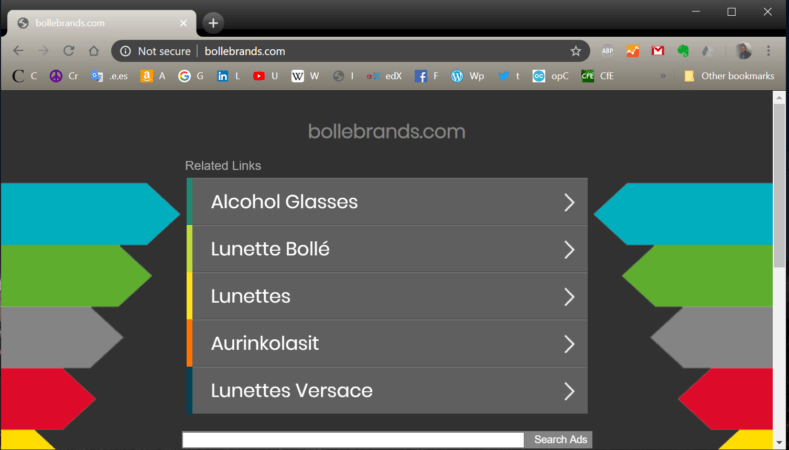 Hopefully they will continue to develop and promote the Serengeti brand and its defining technology. More people need to know about it. I strongly believe that my consistent usage of Serengeti sunglasses for almost all of my adult life is the reason why in my 50s I need neither reading or prescription glasses. 
Facebook Comments