I Flew Ultra Low Cost Carrier Viva Air From Medellín To Cali, Colombia. Here's How It Went
I will admit that it has been a few years since I flew on Colombia's Low Cost Carrier Viva Air. The last time was 3 CEOs ago, and before LATAM veteran executive Felix Antelo took over management of the airline almost 2 years ago in 2018. When the airline invited me to try out the new Medellín-Cali route, I was interested; especially after being fed up with Avianca's consistently late and canceled flights, and corporate drama having a deleterious effect on passenger experience.
Coming from the US, I had been turned off by low cost carriers; well air carriers in general. With the exception of Southwest Airlines, the low-cost and even legacy carriers that I am used to in North America leave me loathing flying. With this conditioning, I wasn't expecting much in terms of comfort & treatment.
The first thing I realized is that Viva Air has a much-improved boarding process compared to what I originally experienced several years ago. Travelers have preassigned seats, which based on your ticket class or a-la-carte purchase option, you can choose in advance. For the lowest cost fare with no options, the airline selects your seat for you. However, travelers can pay between $2.60 US and $19.00 for assigned and preferred seats. The exact price depends on whether the flight is domestic or international, how you purchase (web, call center, or at the airport), and where you want to sit. There is no first-class, though certain seats have slightly more legroom. Passengers board in 1 of 4 groups, the first group being those passengers who have purchased an upgrade such as a Combo fare or a la carte express line access.
The airline offers a base "a la carte" fare which comes with a random seat and a backpack or purse up to 10kg, and several a la carte options. Their Combo+ fare adds one checked suitcase up to 20kg, and express boarding, which means being in the first of 4 boarding groups on the airline's Airbus A320s. The Combo++ fare adds a carry-on suitcase in addition to the handbag or backpacked and single piece of checked luggage along with seat selection, change privileges, and airport check-in, something the airline generally charges extra for. Passengers can save up to 60% by purchasing tickets via the airline website compared to in person or over the phone. Customer service for web purchases is offered via chat. To use the call center will cost you more.
In the past I had heard about gruff treatment by the gate agents, but they were all-smiles this trip. Then again, there were several Viva Air officials flying on this inaugural flight so everyone was certainly on their best behavior. The flight attendants were friendly and ebullient as I took my preassigned center aisle seat in row 3. There is no first or business class on Viva Air, keeping with the Low Cost Carrier model.
The seats were very thin with no options to recline, power outlets or other accoutrements save for a minimalist tray that could hold a sandwich and coffee but certainly not a laptop. These planes are not for finishing up an Excel spreadsheet or PowerPoint presentation on the way to a conference! The seats were surprisingly comfortable for the hour-long flight between Medellín and Cali. They have a certain amount of recline built-in. I am not especially tall at 181cm (5'11") but I have longer than usual legs and the seat pitch left me with plenty of room. My knees didn't come close to the seatback in front of me.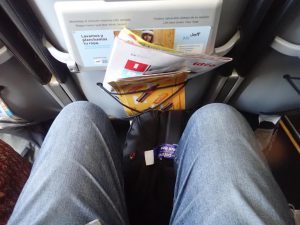 The plane itself, a newer Airbus A320, was immaculate. The bathroom was clean and stocked with towels but no soap. During short domestic flights within Colombia, the legacy carriers offer a free coffee, water, or juice box. Viva air doesn't offer free beverages, but they compensate by offering a full menu of beverages from coffee and soda to beer and liquor, sandwiches instant soup, sweet and savory snacks that are unavailable on full-cost legacy carriers flying within the country. Viva Air monetizes its aircraft by placing ads on the seat-back tray bottoms and overhead bins, in addition to the in-flight magazine.
The captain was courteous and articulate and took the time to give detailed flying conditions in both Spanish and English. Disembarkation at the Alfonso Bonilla Aragón International Airport (CLO) in Palmira, outside of Cali was smooth and efficient. It didn't take much time for the gate agents to have the jet bridge docked and the door open.
The next day, I took a 7:09am return flight to Medellín. Medellín's José Maria Córdova international airport (MDE) actually in the suburb of Rionegro, Colombia is prone to early morning fog. The pilot came on and announced that due to fog we couldn't land right away. One thing I appreciate is that he took the time to explain in detail the situation, assured that there was plenty of fuel, enough to go on to Cartagena, and that they would be placed in a holding pattern with other airliners hoping the fog would lift. If not, we would return to Cali. After 10 minutes or so, the fog did indeed lift, providing enough visibility to allow a safe landing. In Colombia, only Bogotá's El Dorado International Airport is equipped with ILS Category III, and that was only installed in 2017.
Passengers disembarked via portable stairways placed at the front and rear exits, rather than via jet bridge, and entered directly into the airport's ground floor baggage claim area.
The verdict
Overall, an entirely pleasant experience. I see that Viva Air has made significant operational improvements under its new management, and the airline provides for a positive passenger experience, while delivering on its ultra-low-cost pledge. Cali-Medellín fares start as low as $79,900 COP or $24 USD.
I didn't experience the gruff treatment I had heard about; everyone from the gate agents to the flight attendants were pleasant and friendly, and the boarding process was smooth. The plane was new and spotless. Most of my travel within Colombia is same-day round trip, and I rarely have any luggage. Typically, I carry a shoulder bag with my laptop, nothing more. I won't miss the crowded lounges in El Dorado International and with the money I save, I can purchase better food in the airport and still have money left over.
With worldwide fears about the flu and Coronavirus, I highly recommend they make sure that airplane bathrooms are stocked with soap. I am fluent in Spanish, but the in-flight travel magazine is only in Spanish and I also suggest they at least add English for the considerable portion of foreign travelers that fly with the airline, visiting destinations in Colombia and Perú.
Viva Air has a stellar on-time performance record, and last year, OAG rated them #1 for Colombian carriers. Viva Air is an option worth considering for Colombian domestic and regional travel.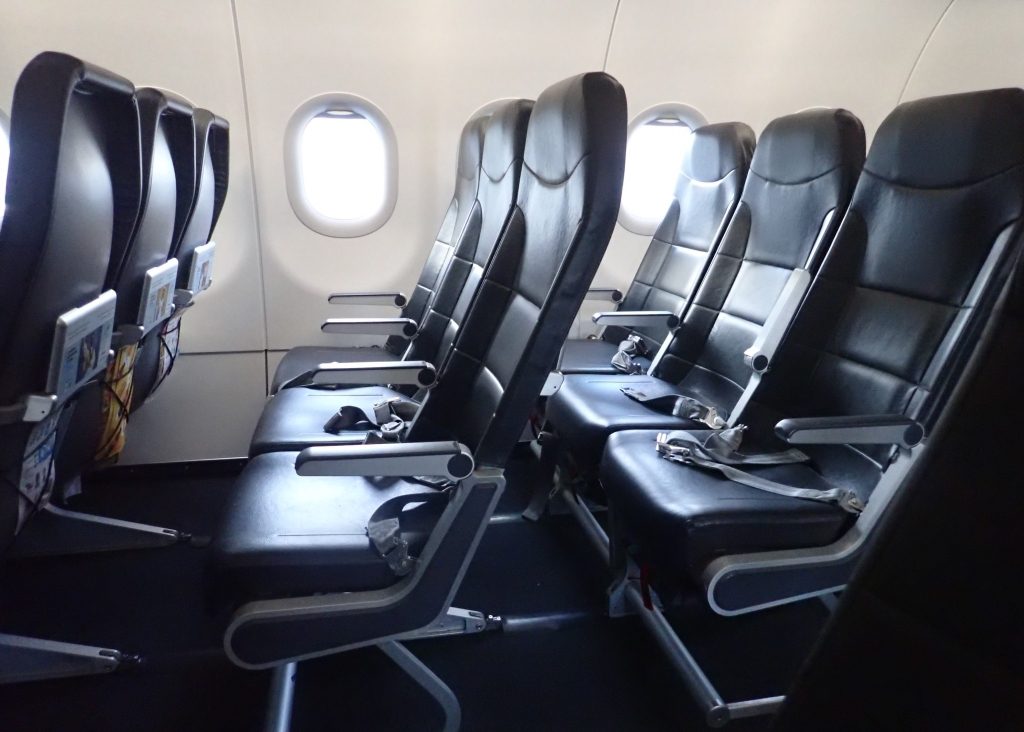 Facebook Comments